17th Century Art & Music in Delft
A tour designed for The Arts Society Jersey
with Peter Medhurst
24th – 29th June 2018
For a small region of Europe – which in the 17th century was famous for having no great composers except for Pieter Sweelinck, who died in 1621 – The Netherlands produced an extraordinarily wide range of pictures showing people making music.  Why this should be so and how it relates to the most fascinating moment in Dutch history is the theme of this tour.
From £1,699.00 per person (based on two sharing a twin room, single supplements will apply)
Press start to hear Peter Medhurst play Gerard's Mistress – Anon c1663 on the virginals
---
---
Itinerary
---
---
Day 1
Flight to Amsterdam, check into Hampshire Hotel in Delft, drinks reception, dinner
We take our scheduled flight to Amsterdam via Gatwick (checking in at both Jersey and Gatwick) where we are met by Peter Medhurst and our private executive caoch. We then make our way to our centrally located 4* Hampshire Hotel in Delft where we will stay for 5 nights, with dinner included on three of the evenings.
Delft is known for its historic town centre with canals, Delft Blue pottery, the Delft University of Technology, jurist Hugo Grotius, painter Johannes Vermeer and scientist Antony van Leeuwenhoek, and its association with the royal House of Orange-Nassau.
After some time for relaxation from our journey, we enjoy a drinks reception followed by dinner at the hotel.
---
Day 2

Morning lecture, walk through Delft to see the Market Square, Nieuwe Church, Vermeer's birthplace, Vermeer Centre, lunch, private visit to Paul Tetar van Elven Museum, Prinsenhof Museum, Oude Church, dinner

After breakfast, the day begins with a lecture by Peter Medhurst on the history of The Netherlands.  This is followed by a guided walk around the Market Square area of Delft, and will include visits to the Nieuwe Church (above), Vermeer's assumed birthplace, and the Vermeer Centre – a permanant exhibition devoted to the life and times of Vermeer.  Lunch will be at a restaurant near the Market Square.
In the afternoon we will visit the Paul Tetar van Elven museum, situated on the Koornmarkt.  The 17th century building possesses a perfectly preserved late 19th century interior and is one of the most important of its type to be found in Holland.  Paul Tetar van Elven 1823-1896 (right) was a painter and teacher at the Polytechnical School – the predecessor of the Technical University of Delft – and his output was mainly portraits, history paintings and copies of old masters. Van Elven lived in the house in Koornmarkt from 1864 till 1894, and after his death he left it and its contents to the town of Delft.  The house is an enchanting time-capsule of Van Elven's life and work, and on display is a fine collection of porcelain, furniture and copies of old masters painted by him.

We then make our way to the Prinsenhof Museum (right). The Prinsenhof (Court of the Prince) is a medieval palace built originally as a monastery (St
Agathaklooster). Later it served as a residence for Stadtholder William of Orange (above), the main leader of the Dutch revolt against the Spanish Habsburgs that instigated the Eighty Years' War.  William was murdered in the building in 1584 and the holes in the wall made by the bullets near the main stairs are still visible.  Today, the museum houses a collection of 17th century art and handicrafts depicting Delft in the Golden Age.
We will finish the afternoon with an optional wander around the Oude Church, where Vermeer is buried.
Dinner is included at a local restaurant.
---
Day 3
Morning lecture, visit to the Panorama Mesdag, Gemeente Museum, village of Scheveningen, lunch in the Marina, Het Binnenhof, tour of – and free time in – the Mauritshuis collection of paintings

Following a lecture on the history of the Panorama Mesdag, and an introduction to the Mauritshuis collection of paintings, we will spend a full day in The Hague.  Our time there begins with a visit to the Panorama Mesdag to view the immense painting of Scheveningen (above) which was completed in 1881 by Hendrik Willem Mesdag and his team of artists. The panorama is a cylindrical painting (also known as a cyclorama) more than 14 metres high and about 40 metres in diameter (120 metres in circumference). From an observation gallery in the centre of the room the cylindrical perspective creates the illusion that the viewer is on a high sand dune overlooking the sea, beaches and village of Scheveningen.  No words can ever prepare the viewer for the impact that the panorama has when seen for the first time.  It is, quite literally, breathtaking.
We then travel by coach to view, and to walk on, the beach at Scheveningen.  However, en route we will take in a brief visit to the Gemeente Museum in The Hague which was built in the early 1930s was designed by the Dutch architect HP Berlage. It is famous for its large collection of paintings by Mondrian.
An included lunch will be enjoyed at a restaurant in the Marina in Scheveningen.
In the afternoon (following a walk through Het Binnenhof) we visit the Mauritshuis (above), a 17th century house in the centre of The Hague, which contains masterpieces from the Golden Age of Dutch art. In 1631, army officer John Maurice, Prince of Nassau-Siegen (1604–1679), who was a cousin of stadtholder Frederick Henry, Prince of Orange, bought a plot of land bordering the Binnenhof and the adjacent pond named known as the Court's Pond.
The Mauritshuis was built between 1636 and 1641, the period when Prince John Maurice was the governor of Dutch Brazil; and was designed by the Dutch architects Jacob van Campen and Pieter Post. The building houses the Royal Cabinet of Paintings and these include The Bull by Potter, The Anatomy Lesson of Dr Nicolaes Tulp by Rembrandt, The Goldfinch by Fabritius and The Girl with a Pearl Earring by Vermeer.  Our art specialist for the tour of the collection is Jane Choy.
Evening is at leisure to explore one of Delft's many restaurants
Press start to hear Peter Medhurst play Il ballo del Granduca by Sweelinck on the virginals
---
Day 4
A day in Leiden, a visit en route to the Voorlinden Museum, Organ recital by Peter, lunch, boat tour of the canals, visit to Stedelijk Museum de Lakenhal museum
Today is devoted to visiting Leiden (above), a city in the Dutch province of Southern Holland. It is known for its centuries-old architecture and for having the country's oldest university, dating from 1575. En route to Leiden we will visit the Voorlinden Museum owned by Joop van Caldenborgh. After an organ recital at a church in Leiden, we have an included lunch in a local restaurant and take a boat tour of the canals.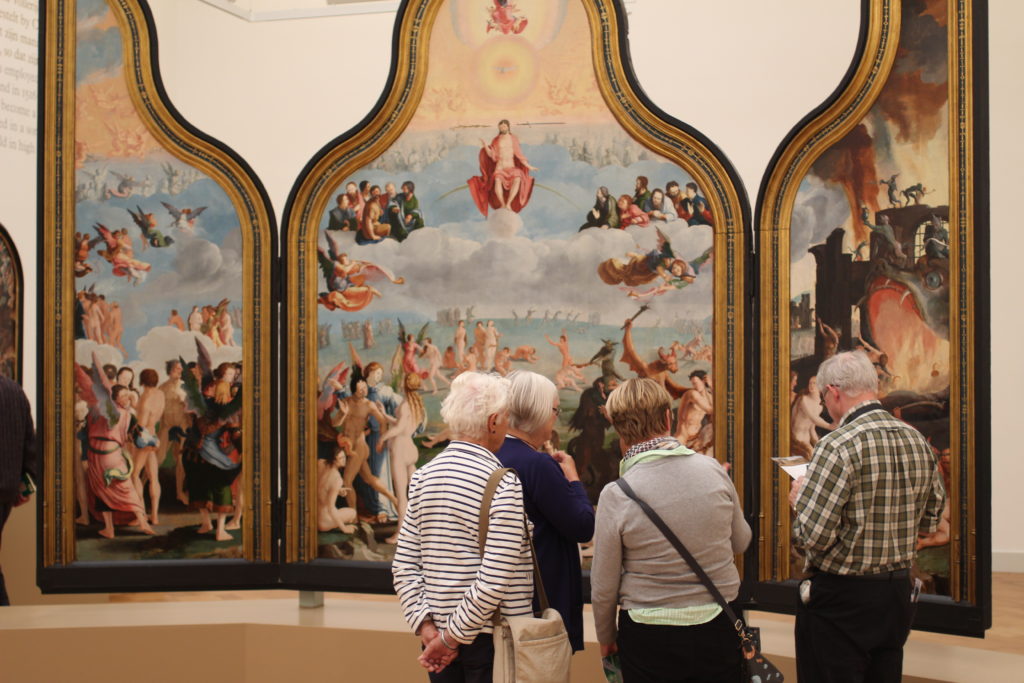 Lunch is followed by a visit to the Stedelijk Museum de Lakenhal (above) – a museum of history and fine art.  The museum building dates from 1640 and was built by Arent van 'Gravesande as a guildhall for cloth merchants and it was turned into a municipal museum in 1874.  It has an outstanding collection of paintings from the Dutch Golden Age. We return by coach to our hotel in the late afternoon. The evening is at leisure.
The evening is at leisure.
---
Day 5
Morning lecture on Constantiyn Huygens, private boat for a trip on the Vliet Canal, coffee reception and private tour of the Hofwijck, organ recital, private recption at the house of Jane Choy, dinner at the hotel
The lecture this morning focuses on Constantiyn Huygens, the 17th century poet and diplomat.  Huygens was a keen amateur writer and musician who was knighted by James I for his outstanding performances on the lute. At 10.00, we depart on foot for the Vielt Canal where we will take a private boat for a trip to the Hofwijck (above), the small moated country house built by Huygens as a retreat from court life. After a private reception of coffee and biscuits in the kitchen, we enjoy a private tour of the house and gardens. We will then have free time for lunch in the village of Voorburg.
A highlight of the day will be an organ recital in the afternoon given by Peter Medhurst on the 17th century chamber organ and the large 19th century organ (right) in Voorburg's parish church.  Music will be drawn from the 16th and 17th centuries and will include Variations and Toccatas by Sweelinck, Dances by Gisbert Steenwick, selections from Susanne van Soldt's Virginal Book, and Hexachordum Apollinis by Johann Pachelbel.
This is followed by a private reception of wine/tea/coffee and small nibbles at the 17th century house in Voorburg of Jane Choy. After this we have a coach transfer back to our hotel and later we meet for a farewell dinner.
Press start to hear Peter Medhurst play Les Buffons by John Bull on the virginals
---
Day 6
A visit to the Rijksmuseum, return flights to Jersey
After checking out of our hotel, we leave by coach for Amsterdam to visit the magnificent Rijksmuseum. The Rijksmuseum and its contents need no introduction, but it has recently been magnificently refurbished and a visit this morning makes a fitting close to the tour. After this, we take our flight back to Jersey from Amsterdam via Gatwick checking in at both Amsterdam & Gatwick
---
Hampshire Delft Centre Hotel, Delft


This family-owned 4* hotel is located in the heart of Delft on a canal just behind the New Church, within a few minutes' walk of the main square and all the main sights.  The owner is passionate about music, so the bedrooms, foyer, bar and function rooms have musical pictures and musical artifacts in them as decorations.
With stylish and modern public areas, facilities here include a bar, restaurant and very comfortable bedrooms with private bath or shower, TV and telephone. Please visit www.hoteldelftcentre.nl for more information.
---
Features
Lectures by Peter Medhurst Days 2, 3 & 5
Private organ recitals by Peter Medhurst at
churches in Leiden & Voorburg
4* central Delft hotel
Private receptions on Days 1 & 5
Three dinners & three lunches included
All excursions, entrance fees & guided tours included
Return scheduled flights from Jersey to Amsterdam via London Gatwick
Executive coach throughout
Audio listening headsets Days 2 to 5
---
Highlights
Delft – guided walking tour
Paul Tetar van Elven Museum
Prinsenhof Museum
Panorama Mesdag – guided tour
Gemeente Museum
Village of Scheveningen
Het Binnenhof
Mauritshuis – guided tour
Voorlinden Museum, Leiden
Voorlinden Museum
Leiden canals boat tour
Stedelijk Museum de Lakenhal
Private boat trip on the Vliet Canal
Hofwijck – private tour & reception
House of Jane Choy – private reception
Rijksmuseum
---
Included
 Entrance fees
Headsets
Private Boat trip
Museum entrances
Lunches and coffee breaks as detailed
---
Extra
 Insurance £36
Single room supplement £249
Gratuities
Local accommodation tax to be paid directly to the hotel (approximately €2.90 per person per night)
---
How to book
Download the booking form from this webpage, or use the form in the Delft brochure, and send with your deposit (a cheque made out to Tailored Travel) to Carolyn Akers
Email: carolyn@the artssocietyjersey.org
3 Magnolia House, St Lawrence JE3 1LZ
Tel: 01534 601195
---
Peter Medhurst
Peter Medhurst is well-known in the world of the arts as a singer, pianist, scholar and lecturer, who in addition to his appearances on the concert platform and in the lecture hall, sets aside time to devise and lead tours abroad for small groups of art and music connoisseurs (including the Arts Society ).
His particular interests are centred on the music, art and history of Vienna, Salzburg (with its strong Mozart link), Berlin, Halle (Handel's birthplace), Dresden, Venice (Vivaldi's birthplace), Rome, and Delft (with its Vermeer and 17th century Dutch School connections) and over the years Peter has been associated with a number of companies including Travel Editions, Cox and Kings, Success Tours, Heritage Travel, Tailored Travel, and Voyages to Antiquity.
Peter always includes unusual places and events in the itinerary (private reception, local concert, special viewing) and – if the situation allows – will give a recital in a suitable location or venue.  More information about Peter Medhurst
---
Flight details may be subject to change | Price based on twin share
Minimum numbers required | Normal booking conditions apply
Any air holidays and flights in this brochure are ATOL protected by the Civil Aviation Authority
Tailored Travel's ATOL number is 5605
*  *  *  *  *  *  *  *  *  *  *  *  *  *  *