Vivaldi in Venice



with Peter Medhurst
and a professional tour manager throughout, as well as a local guide
15th – 20th March 2018
Six days departing 15th March 2018 from £2,669
Phone Tailored Travel to book: 020 7064 4970 | Email  info@tailored-travel.co.uk
---
Antonio Vivaldi (1678-1741) is arguably the one Baroque composer whose music is a direct reflection of the city in which it was composed. Listen to a Vivaldi concerto and hey presto you are transported directly to the heart of the famous island city.
The reasons for this are many – Vivaldi's passion for colour, display and spectacle in his music; the unusual way in which Venice solved its problems with the poor and the homeless; Vivaldi's health problems and his eccentricities as a man and a priest; and above all, the impact on Vivaldi of Venice's unique and extraordinary cultural aesthetic.
By exploring the art galleries and museums of Venice, visiting the places associated with Vivaldi's life, listening to his music in the concert halls and churches of Venice, this tour will bring Venice's greatest musical son bursting into life.
---
Itinerary
---
Day 1
Flight to Venice, water taxis to the Hotel Saturnia International, lunch at the hotel, a ride down the Grand Canal, private tour of the Ca' d'Oro Palace, drinks reception, dinner at the hotel
After taking our direct scheduled British Airways flight from London Gatwick Airport to Venice Airport, we are met on arrival by Peter Medhurst, our music lecturer, and our tour manager, who will accomany us throughout our time in Venice.  We transfer by water taxi to Venice to the centrally located Hotel Saturnia International for a five night stay. On arrival at the hotel, we are given a seven day Vaporetto pass which we will be able to use throughout the week to explore the glories of Venice and the Grand Canal. We then have an included lunch followed by a visit to the Ca' d'Oro – the House of Gold. The Ca' d'Oro is one of the most beautiful Gothic palaces on the Grand Canal and is also home to an excellent art collection, which includes works by Titian and Carpaccio. It is here, surrounded by art and sculpture, that Peter will introduce and reveal the key aesthetics of Venetian music and art, and how they impact on the music of Vivaldi and his contemporaries. This evening a drinks reception is followed by a welcome dinner at the hotel's La Caravella restaurant.
Peter Medhurst discusses the Venetian passion for ritual and display in its culture
---
Day 2
Lecture at the hotel, a walk through St Mark's Square, private tour through the Querini Stampalia Museum, lunch in the Querini Stampalia Museum restaurant, visit chapel and music toom of Santa Maria dei Dereletti,  Basilica of San Giovanni e Paolo, optional Vivaldi concert in the evening
This morning Peter presents a lecture entitled 'Introduction to the world of Venice and its music'. After a walk through St Mark's Square, our first visit of the day is to the Querini Stampalia Museum, home to one of the richest art collections in Venice. Here we explore the music room and various paintings by Sebastiano Ricci, Pietro Longhi and Gabriel Bella – artists working in Venice during (and just after) the time of Vivaldi. We also enjoy an included light lunch in the excellent Querini Stampalia Museum restaurant. Afterwards, we continue to the chapel and music room of Santa Maria dei Dereletti, one of the four famous ospedali in Venice. We then visit the Basilica of San Giovanni e Paolo to make a connection with the composer Georg Frederick Handel, one of Vivaldi's contemporaries. The Gothic church, built by the Dominicans in the 14th century and known locally as the 'Pantheon of Venice', houses monuments to 25 doges. This evening there is an optional concert at the San Vidal Church.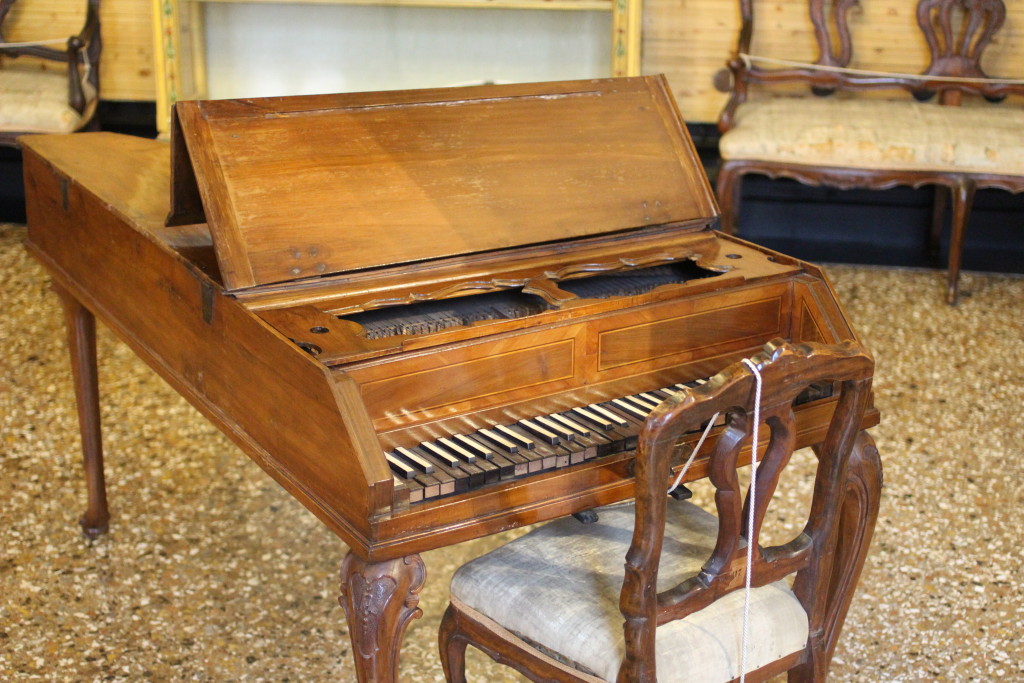 ---
Day 3
Morning lecture on Vivaldi, musical instrument collection at Chiesa di San Maurizio, private tour of La Fenice, lunch reception in historic room of La Fenice, visit to Galleria dell'Accademia art museum, private viewing of mosaics in St Mark's
After our morning lecture on the concertos of Vivaldi, we visit the musical instrument museum at the Chiesa di San Maurizio. The collection has a range of outstanding instruments – harpsichords, violins, viols, oboes and flutes – all stemming from Vivaldi's time. Afterwards we go to La Fenice Opera House for a private tour of the theatre and this is followed by an exclusive lunch reception in one of La Fenice's historic rooms. Afterwards, we walk to the Galleria dell'Accademia to explore some of its wonderful collection of Venetian art, including works by Titian, Tintoretto and Veronese. In the evening we go to the Basilica of St Mark's for a private viewing of the magnificent mosaics which adorn its internal walls and floors. The Basilica has over 4,000 square metres of gleaming golden mosaics, the earliest dating from the 12th century.
---
Day 4
Morning lecture on Vivaldi, private tour of the Ospedale della Pietà, organ recital in the Ospedale della Pietà church, visit San Giovanni Battista in Bragora for another organ recital, lunch, visit Church of San Martin for a third recital, tour of Ca' Rezzonico Museum, optional opera visit
This morning's lecture is entitled 'The musical world of Antonio Vivaldi'. Our first visit is to the Ospedale della Pietà, a convent and music school for orphaned girls, where Vivaldi was a director in the early 18th century. Here we see the Pietà Museum and focus on the life and music of Vivaldi, as well as on the lives of the orphans and choristers who performed and worked at the foundation, and afterwards enjoy an organ recital by Peter played on the superb historic 18th century organ. We then continue to San Giovanni Battista in Bragora for another organ recital. The church of San Giovanni Battista is essentially Gothic and the interior contains works of art that demonstrate the transition from Gothic to early Renaissance. An included light lunch at a nearby restaurant is followed by a visit to the Church of San Martin where Vivaldi played the organ and where Peter gives his third recital of the day. Afterwards, we visit the Ca' Rezzonico Museum on the Grand Canal; the museum is dedicated to showing Venetian life in the 18th century. This evening there is an optional visit to the opera, or to a concert.
---
Day 5
Morning lecture, private boat trip to the islands, visit Isola di San Michele, visit Torcello, lunch, visit Cathedral of Santa Maria Assunta, visit Burano, private organ recital in St Martino, visit glass factory and shop on Murano
After breakfast we have a lecture entitled 'Isola di San Michele and its musical connections'. For the rest of our time, we enjoy a full day private boat trip to some of the local islands close to Venice. We visit Isola di San Michele, Venice's cemetery, where we see the graves of Diaghilev, Stravinsky, Luigi Nono and Ezra Pound. We then continue to Torcello, an island barely inhabited (only 10 official residents) for an included light lunch in one of the local restaurants. Afterwards, we walk to the Cathedral of Santa Maria Assunta, founded in 639, to view its mosaics and its atmospheric interior. We then make our way to the island of Burano which, because of its brightly decorated houses lining the waterways, is the most colourful of the islands. It was here in 1706 that the composer Baldesaro Galuppi was born, and it is in the Church of San Martino where Galuppi developed his musical skills as a young man that Peter gives a recital of organ music by the composer. This evening we enjoy an included farewell dinner at a local restaurant.
---
Day 6
Morning lecture, tour of Correr Museum, lunch, transfer by water taxi to airport for flight home to London
Following a final summing up lecture by Peter (and flight times permitting), we make our way to the nearby Correr Museum in St Mark's Square. The museum illustrates the life and culture of the Venetian Republic over the centuries of its political grandeur and independence. Afterwards, we have an included lunch, before transferring via water taxi to Venice Airport for our flight back to London.
---
Features
Tour limited to 24 passengers
Lectures by Peter Medhurst each morning
Four private organ recitals by Peter Medhurst in Venetian churches
Professional tour manager throughout
Professional local guide on Days 2 & 5 and for the private viewing of Basilica of St Mark's on Day 3
Included light lunches every day
All excursions, entrance fees, guided tours & gratuities included
Centrally located 4* hotel
Welcome & farewell dinners included
Direct scheduled British Airways flights from Gatwick to Venice
Return water taxi transfers in Venice between the airport & hotel
Included Vaporetta ticket for the whole tour
---
Highlights
Ca' d'Oro
Querini Stampalia Museum
Chapel & music room of Santa Maria dei Dereletti
Basilica of San Giovanni e Paolo
Musical instrument museum at the Chiesa di San Maurizio
Guided tour of La Fenice Theatre
Galleria dell'Accademia
Private evening viewing of the mosaics at St Mark's Basilica
Vivaldi Museum at the Ospedale della Pietà
San Giovanni Battista in Bragora
Church of San Martin
Ca' Rezzonico Museum
Full day private boat trip to the Islands of the Venetian Lagoon – Isola di San Michele, Torcello,
Cathedral of Santa Maria Assunta & Burano
Correr Museum
---
Optional
Optional Vivaldi orchestral concert on Day 2 • Optional opera on Day 4
---
The Hotel Saturnia
We stay for seven nights at the 4* Hotel Saturnia (www.hotelsaturnia.it) which has a wonderful old world grandeur about it.  The hotel, dating from the 14th century, is one of the great palazzos of Venice and is located in the heart of the city.  It is therefore, just a short stroll from St Mark's Square and La Fenice.  The hotel has a restaurant and bar and all rooms are en suite.
Dinner is included at the hotel's La Caravella restaurant on the first and last evenings and the remaining five nights are on bed and breakfast basis.
---
Extras to the tour
Insurance £36
Single room supplement £199 (limited availability)
Double room for single use £229
Optional concert & opera
Local accommodation tax to be paid directly to the hotel (approximately €4.50 per person per night)
(Flight details may be subject to change. Price based on twin share. Normal booking conditions apply)
Bookings through Tailored Travel:
Tel: 020 7064 4970     Email  info@tailored-travel.co.uk
---
Peter Medhurst
Peter Medhurst is well-known in the world of the arts as a singer, pianist, scholar and lecturer, who in addition to his appearances on the concert platform and in the lecture hall, sets aside time to devise and lead tours abroad for small groups of art and music connoisseurs.  His particular interests are centred on the music, art and history of Vienna, Salzburg (with its strong Mozart link), Berlin, Halle (Handel's birthplace), Dresden, Venice (Vivaldi's birthplace), Rome, and Delft (with its Vermeer and 17th century Dutch School connections) and over the years Peter has been associated with a number of companies including Travel Editions, Cox and Kings, Success Tours, Heritage Travel, Tailored Travel, and Voyages to Antiquity.
---
Some of the themes explored on the tour
The Venetian Concerto
Throughout its history, show and spectacle have been central to the image that the Venetians have projected to rest of the world.  Whether this was a dignified procession from the Doge's palace to the basilica, or the annual Marriage with the Sea, when the Doge cast a gold ring into the lagoon as a sign of true and perpetual dominion over the Adriatic (see below).  These events have all helped to give Venice a sense of theatre, showmanship and drama.
Rituals of state reached their height during Vivaldi's lifetime, when Venice consciously changed its identity from being a powerful force on the stage of European politics and international trade and commerce, to being a tourist attraction and a place of entertainment – a role that it has upheld to this day.
In the musical world of Venice, there is a particular form that may be said to parallel the phenomena of show and spectacle: the
concerto – a form that even today is designed to entertain, to move, to amaze, and above all, to impress.  Vivaldi is particularly remembered for the writing of concertos (some 600 in all), in fact, it could be argued that Vivaldi is the inventor of the concerto, as we might know it today.  In other words, a musical form that is designed to show off the skills of a soloist – or soloists –  who are placed against the backdrop of an accompanying orchestra.
---
The Ospedali
In order to understand Vivaldi and his relationship to the concerto – and therefore to Venice – the role of the four Ospedali needs to be considered.  The Ospedali
were charitable institutions for orphans and abandoned children, especially girls.  Originally, these foundations were designed as 'hotels' for crusaders, but as the crusades abated, their function was changed into charitable foundations (orphanages), and became famous for their high grade level of tuition, and more important, for their high grade level of music making.
The four Venetian Ospedali attracted a wide range of high grade music teachers, for example after his arrival in Venice in 1670, Giovanni Legrenzi took a position as music teacher at the Ospedale Santa Maria dei Derelitti, remaining there until 1676. While in 1740, composer and harpsichordist Baldessare Galuppi was appointed director of music at the Ospedale dei Mendicanti.
The Ospedale della Pietà was the foundation with which Vivaldi had a lifetime connection (1703 -1739) and it was for them that the bulk of his concertos and religious music was written.  The musical standard reached in the Pietà Chapel – and those of the other Ospedali – was so great, that large congregations were attracted to them in order to hear the choirs and instrumentalists perform, especially in Lent, when music in other churches tended to be less elaborate.
Edward Wright writing in the 1720s remarked:
Every Sunday and holiday there is a performance of music in the chapels of these hospitals, vocal and instrumental, performed by the young women of the place, who are set in a gallery above and, though not professed, are hid from any distinct view of those below by a lattice of ironwork.  The organ parts, as well as those of the other instruments are all performed by the young women.  They have a eunuch for their master and he composes most of their music. Their performance is surprisingly good … and this is all the more amusing since their persons are concealed from view.'
The public wanted to hear the girls play concertos, the girls needed concertos to play, and Vivaldi found employment by writing concertos. The writing of concertos, coupled with Vivaldi's great skills as a violinist, made him become one of the greatest concerto writers of all time.
---
Venice and colour

Colour, is something that you can find everywhere in Venice, whether it is used in the decoration that can be seen on the west end of St Mark's Basilica (below),
or whether it is the famous glass that is produced on the island of Murano, or even the highly decorated posters that advertise the carnival each year.
In the world of art, the Venetian painters were famous for their use of colour; and one of the most celebrated colourists of all time was Paolo Veronese, based in Venice, and his Wedding at Cana shows his skill in this direction to an astonishing degree (see below right).
This passion for – and use of – colour may in part reflect the ready availability of high quality pigments such as ultramarine, made from the semi-precious stone lapis lazuli imported from Afghanistan. And this, joined with the fact that canvas, the fabric of ship sails, was more popular as a support for paintings in Venice than anywhere else and may have stimulated a preference for the bold, highly visible, expressive brushwork that is such a distinctive feature of Venetian painting.
It could be argued then, that the long tradition Venice had for trading over seas, as well as its importance as a seafaring port, may well have had a direct influence on this aspect of the arts.  This is cause and effect.
Turning now to music, I can think of no other Baroque composer who could be said to have more 'colour' in his music than Vivaldi.  And by colour, I don't just mean the subtleties of harmonic and rhythmic textures that lie in his compositions, but the highly imaginative scoring of his concertos and religious music.  In other words, his choice of musical instruments for a particular work in question.
Vivaldi used a greater range of instruments in his music than any other composer that I know of during this period, and the range of instruments in turn reflects the variety of instruments played by the young girls at the Ospedale della Pietà: mandoline, tromba marina, recorders, bassoon, clarinet, trumpet, lute, horn etc