Vivaldi in Venice

with Peter Medhurst & Thomas Abbott
27th January – 3rd February 2017
---
The music & art tour explores the world of this greatest of Venetian composers
8 days Departing 27th January 2017 from £2,299
Bookings through Tailored Travel:
Tel: 020 7064 4970     Email  info@tailored-travel.co.uk
---
Itinerary
Day 1
After taking our direct scheduled British Airways flight from London Gatwick Airport (North Terminal) to Venice Airport, we are met on arrival by Peter Medhurst, our music lecturer, and Thomas Abbott, our art historian. We transfer by water taxi to the centrally located 4* Hotel Saturnia International in Venice. We are then given a seven day Vaporetto pass which we will be able to use throughout the week to explore the glories of Venice and the Grand Canal. This afternoon we visit the Ca' d'Oro – the House of Gold, one of the most beautiful Gothic palaces on the Grand Canal and home to an excellent art collection including works by Titian and Francesco Guardi. It is here, surrounded by the superb art and sculpture collection, that Peter and Tom will introduce and reveal the key aesthetics of Venetian music and art, and how they impact on the music of Vivaldi and his contemporaries. A welcome dinner is served at the hotel's La Caravella restaurant this evening.
---
Day 2
After breakfast we have our first lecture by Peter entitled 'Vivaldi and 18th century Venice'. The first visit of the day is to the Querini Stampalia Museum, home to one of the richest art collections in Venice. Here we explore works by Sebastiano Ricci, Pietro Longhi and Gabriel Bella – painters working in Venice during and just after the time of Vivaldi. We also enjoy an included light lunch in the excellent Querini Museum restaurant. In the afternoon we visit the Ospedale San Lazzero dei Mendicanti, one of several churches in Venice that provided musical education for impoverished young girls. Here Peter will give a recital of Venetian 17th and 18th century organ music. We continue to the Basilica of San Giovanni e Paolo to make a connection with the composer Georg Frederick Handel, one of Vivaldi's contemporaries. The Gothic church, built by the Dominicans in the 14th century and known locally as the 'Pantheon of Venice', houses monuments to 25 doges. This evening there is an optional Vivaldi orchestral concert at the San Vidal Church.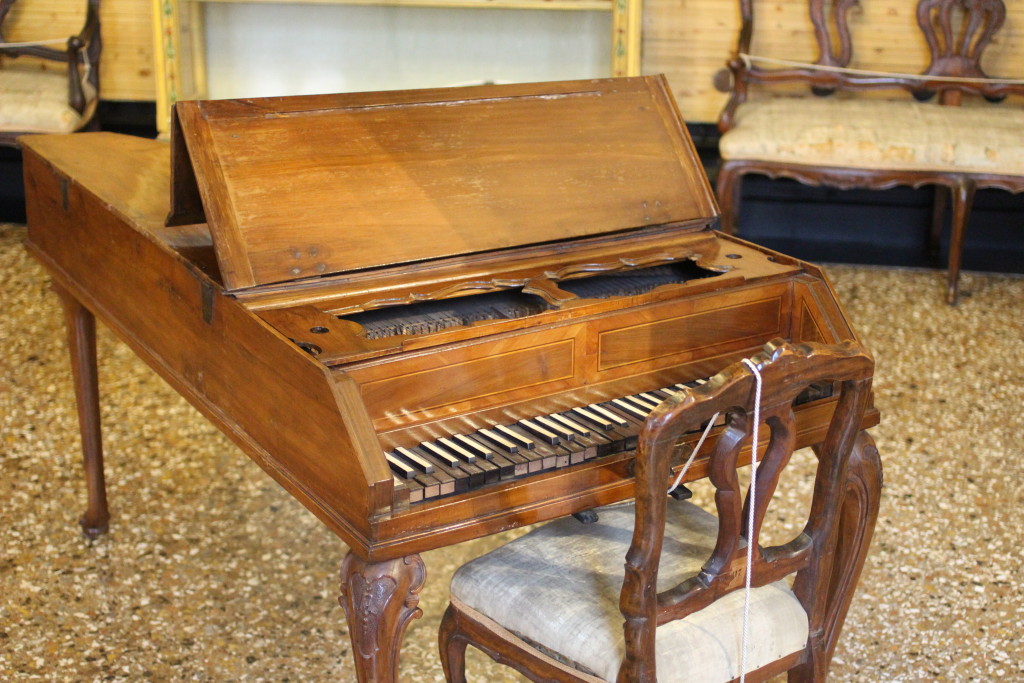 ---
Day 3
After breakfast we have a lecture entitled 'Neo-classicism in the music of Stravinsky'. We then enjoy a full day private boat trip to some of the neighbouring islands of Venice. The first stop is Isola di San Michele, Venice's cemetery, and here we see the graves of Diaghilev and Stravinsky whose ballet Pulcinella borrows large quantities of music from the trio sonatas of the 18th century Venetian composer Domenico Gallo. We also visit the graves of Olgar Rudge and Ezra Pound, a couple largely responsible for the 'Vivaldi resurrection' in the mid- 20th century. We then visit Murano, the island famous for its glass making. We continue on to Torcello where we have an included light lunch, and finally we visit Burano, where the composer Baldesaro Galuppi was born in 1706. Here, in the church where Galuppi developed his musical skills as a young man, Peter will give a recital of organ music by Galuppi.
---
Day 4
Today's introductory talk is entitled 'The musical style of Antonio Vivaldi'. This morning we visit the Vivaldi Museum at the Ospedale della Pietà, a convent and music school for orphaned girls where Vivaldi was employed on and off between 1703 and 1739. After we have explored the museum and chapel, Peter will give another organ recital, drawing on music by Vivaldi and other composers who worked at this foundation in the early 18th century. We continue to the San Giovanni Battista in Bragora, Vivaldi's baptismal church, for another organ recital. The church is essentially Gothic and the interior contains works of art that demonstrate the transition from Gothic to early Renaissance. After an included lunch, we visit the Ca' Rezzonico Museum, a palazzo on the Grand Canal dedicated to the world of 18th century Venice. As well as viewing paintings by Vivaldi's contemporaries, we have a chance to see the splendid pastel portrait by Rosalba Carriera of the singer Faustina Bordoni – a native of Venice and one of the great sopranos of the late Baroque period. One source claims that Vivaldi was her teacher and that he wrote cantatas for her to perform. This evening there is an optional visit to hear an opera.
---
Day 5
Our talk this morning introduces us to Vivaldi's one surviving oratorio Juditha Triumphans, written in 1716 to celebrate the victory of the Republic of Venice over the Turks during the siege of Corfu in July 1716. After the lecture, we continue the theme of Judith (Jewess and liberator of the people of Bethulia) by taking the Vaporetto to the Piazzale Rome area to visit the Jewish Quarter to see the famous Ghetto. Here we enjoy a tour of the three remarkable 18th century synagogues. We have an included lunch followed by a visit to San Rocco Church (remodelled during Vivaldi's time) and the Scuola di San Rocco. Afterwards, we visit the Correr Museum.
---
Day 6
We have a morning lecture on the history of La Fenice, Venice's great 18th century opera house. We follow this with a visit to the Galleria dell'Accademia to explore some of the 18th century highlights from its wonderful collection of Venetian art. Our next stop is the musical instrument museum at the Chiesa di San Maurizio. The collection has a range of superb instruments – harpsichords, violins, viols, oboes and flutes – all stemming from Vivaldi's time. The afternoon is spent at La Fenice and during the course of our visit we have a tour of the theatre as well as enjoying a private light lunch reception in one of the La Fenice's historic rooms. This evening we return to the Basilica of St Mark's for a private viewing of the magnificent mosaics at night. Covering the domes, walls and floors of the Basilica are over 4,000 square metres of gleaming golden mosaics (the earliest, dating from the 12th century) and in the artificial light the glass gleams magnificently.
---
Day 7
Today we travel by coach to Padua, one of Italy's oldest University Cities and one that has fascinating connections with composers and musical theorists of Vivaldi's time. Our local Venetian guide, Viviana, will be joining us too. On arrival, we have a coffee break followed by a visit to St Anthony's Basilica in Padua to view the monument of the violinist Giuseppe Tartini – composer of the famous Devil's trill sonata – and to explore connections with the composer Barbara Strozzi and Francesco Valotti. We then visit the Church of Sant'Antonio Abate where Peter will also give an organ recital. We follow this with an included light lunch in the city. This afternoon we visit the Cappella degli Scrovegni Chapel to see Giotto's frescoes, and, time permitting, a final visit to the Museum of Pre-Cinema prior to returning to Venice. On returning to Venice, we have a farewell dinner in the hotel's La Caravella restaurant.
---
Day 8
After checking out of our hotel, we have a final summing up lecture by Peter, after which, there will be a chance for some time at leisure in Venice. We then have an early afternoon transfer by water taxi to Venice Airport for our direct scheduled British Airways flight back to London Gatwick Airport.
---
Features
Tour limited to 22 passengers
Lectures by Peter Medhurst each morning
Five private organ recitals by Peter Medhurst in Venetian churches
Thomas Abbott – professional tour manager & art historian
Included light lunches on Days 2 to 7
All excursions, entrance fees, guided tours & gratuities included
Centrally located 4* hotel
Welcome & farewell dinners included
Direct scheduled British Airways flights from Gatwick to Venice
Return water taxi transfers in Venice between the airport & hotel
Included Vaporetta ticket for the whole tour
---
What we will see
Ca' d'Oro
Querini Stampalia Museum
Ospedale San Lazzero dei Mendicanti
Basilica of San Giovanni e Paolo
Full day private boat trip to the Islands of the Venetian Lagoon
Vivaldi Museum at the Ospedale della Pietà
San Giovanni Battista in Bragora
Ca' Rezzonico Museum
Jewish Quarter & a guided tour of the 18th century synagogues
San Rocco Church
Scuola di San Rocco
Correr Museum
Galleria dell'Accademia
Musical instrument museum at the Chiesa di San Maurizio
Guided tour of the La Fenice Theatre
Private evening viewing of the mosaics at St Mark's Basilica
Padua, one of Italy's oldest University Cities
St Anthony's Basilica
Church of Sant'Antonio Abate
Cappella degli Scrovegni Chapel
Museum of Pre-Cinema
---
Optional
Optional Vivaldi orchestral concert on Day 2 • Optional opera on Day 4
---
The Hotel Saturnia
We stay for seven nights at the 4* Hotel Saturnia (www.hotelsaturnia.it) which has a wonderful old world grandeur about it.  The hotel, dating from the 14th century, is one of the great palazzos of Venice and is located in the heart of the city.  It is therefore, just a short stroll from St Mark's Square and La Fenice.  The hotel has a restaurant and bar and all rooms are en suite.
Dinner is included at the hotel's La Caravella restaurant on the first and last evenings and the remaining five nights are on bed and breakfast basis.
---
Extras to the tour
Insurance £44
Single room supplement £199
Double room for single use £299
Optional concert & opera
Local accommodation tax to be paid directly to the
hotel (approximately €4.50 per person per night)
Flight details may be subject to change.
Price based on twin share.
Normal booking conditions apply.
Bookings through Tailored Travel:
Tel: 020 7064 4970     Email  info@tailored-travel.co.uk
---
The music and art specialists
Tom Abbott (left) and Peter Medhurst (right) in the Mauritshuis, The Hague
Peter Medhurst is well-known in the world of the arts as a singer, pianist, scholar and lecturer, who in addition to his appearances on the concert platform and in the lecture hall, sets aside time to devise and lead tours abroad for small groups of art and music connoisseurs.  His particular interests are centred on the music, art and history of Vienna, Salzburg (with its strong Mozart link), Berlin, Halle (Handel's birthplace), Dresden, Venice (Vivaldi's birthplace), Rome, and Delft (with its Vermeer and 17th century Dutch School connections) and over the years Peter has been associated with a number of companies including Travel Editions, Cox and Kings, Success Tours, Heritage Travel, Tailored Travel, and Voyages to Antiquity.
Thomas Abbott graduated in Psychology and Art History at Carleton College, Minnesota, and studied at the Louvre School of Art History in Paris. 1987 he moved to Berlin leading tours in Germany, specialising, of course, in the German capital. While in Berlin, Tom commenced and completed his graduate studies in the history of art and architecture, focusing particularly on the art of the Italian and German Baroque. He has recently led seminar tours to the United States exploring the works of Frank Lloyd Wright, and the School of Nancy, France, as well as tours focusing on the art of the Netherlands from the Golden Age to the Contemporary. Tom is associated with the Foundation of Prussian Palaces and Gardens.
Peter and Tom have worked together for 10 years and have taken art and music enthusiasts to Berlin, Leipzig, Vienna, Munich, Salzburg, Delft, The Hague, Venice and Rome.  Future plans include Weimar, Malta and Sicily.  A traveller – after the April 2016 Vienna tour – wrote 'How you and Tom keep up that momentum is a wonder.  What a full-on visit packed with passing on your love for your individual specialities to those of us lucky enough to be with you' .